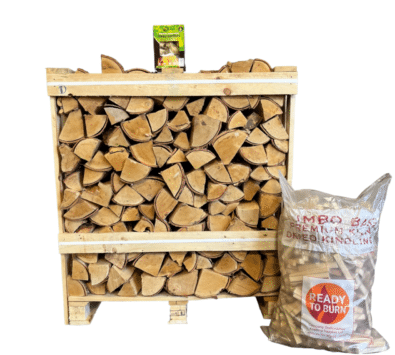 Kiln Dried Silver Birch 10″ Logs in Crate & Jumbo bag kindling & box of Wood Wool Firelighters (ENGLAND & WALES ONLY)
PLEASE NOT AVAILABLE TO ORDER ENGLAND AND WALES ONLY
PLEASE NOTE FOR LOCAL DELIVERIES OUR MACHINE THAT WE USE CANNOT UNLOAD OR MOVE ON GRAVEL OR GRASS AREAS  PALLET NETWORK DELIVERY SERVICE MUST BE LEVEL AND HARDSTANDING GROUND ONLY
A crate of kiln dried hardwood silver birch logs with a Jumbo Bag kindling & Wood Wool Firelighters with our compliments, making this the best offer on the internet.
Crate outer size 1.2m x 1.10m x 0.85
Log volume approx 1.2 cubic metre
Birch is ideal for fire pits.
Loyalty card applies
Kiln dried to less than 20% moisture content and ready to burn
Low smoke emmissions which makes it better for the environment and your stove
Suitable for wood burning stoves, multi fuel stoves, pizza ovens, chimineas and open fires
Kerbside Delivery unless your access is solid and level ground where we can wheel it to a suitable place
PLEASE NOTE The machine that we use cannot unload or move on gravel,.
Not suitable for smoke control areas unless burnt on a Defra approved appliance.
Rated 5.00 out of 5
£

270.00
Add to basket